2023亚洲跨境投资洞见峰会暨专业投资大奖颁奖典礼
来源: 作者:投资洞见与委托 发布时间: 6月前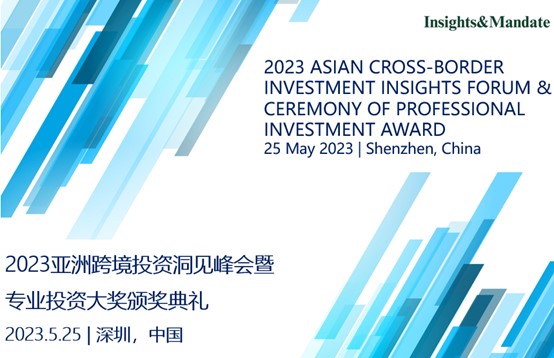 Event website: www.imcrossborder.com
Insights & Mandate is going to host its Insights Conference Series — 2023 Asian Cross-Border Investment Insights Forum & Professional Investment Awards Ceremony on 25 May at The Ritz-Carlton Shenzhen, China.
The topics for discussion include:
- Economic Cycles in Assets Pricing and Reality

- Global Asset Owners' Focus Points in 2023

- Retail Trading: An Analysis of Global Trends and Drivers

- How to Assess Greater China Stock Market over the Next Three Years

- Dialogue: Family Offices' Development and Trends in Asia

- ESG Investment in China

- Where are the opportunities in Bond Market in 2023?

- Connecting Global Capital and China's Micro Economy

- Changes in Greater China and Overseas Markets and Product Development Trends

If you would like to attend this event, please apply for the seat by sending email to crossborder2023@insightsandmandate.com, including your full name, title, company name and contact number. Complimentary seats are limited and priority for our VIP members.
For enquiries: enquiries@insightsandmandate.com or jenny.kwok@insightsandmandate.com, Tel: 852 3166 0460.
Event Sponsor: